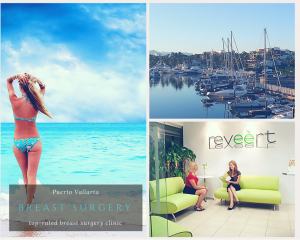 From breast augmentation to breast reduction surgery, Elaen's expert plastic surgeons, Dr. Alejandro Campero and Dr.  Nashielli T. Espinosa, will apply their expertise and artistic talent to help you achieve the breast appearance you desire.
With a thorough consultation to completely understand your situation and goals for breast surgery, the elite team at Elaen Plastic Surgery Center will help you decide on the best surgical procedure, suitable breast implant size and shape for you.
Top Breast Surgery Procedures

Breast Augmentation. Have you always wanted larger breasts, but you couldn't afford them — let alone know if they would look natural? Lead Elaen plastic surgeon, Dr. Alejandro, can help you achieve the exact size that you want with breast augmentation surgery, that also fits your frame beautifully and naturally.
Breast Lift. Also known as a mastopexy, breast lift surgery in Puerto Vallarta is a procedure to lift and reshape sagging breasts. As you age, the skin loses elasticity — ultimately causing the breasts to lose their natural appearance and firmness.
Breast Reduction. Are you suffering from back pain and simply 'too much' in the chest? At the leading breast surgery clinic in Puerto Vallarta, we can help alleviate the pain and debilitating circumstances that surround you with breast reduction surgery.
Understanding the Possibilities of Breast Surgery at Reveert

With each surgery, our expert surgeons strive to realize the potential beauty in each patient that visits San Javier – Reveert Clinic in Mexico. If you are considering breast surgery, we urge you to look through our Before and After Gallery. These photos will help you understand the possibilities that you can achieve with breast surgery in Puerto Vallarta.
You may also schedule a free consultation with Dr. Alejandro or Dr.  Nashielli T. Espinosa. You can expect your initial exam and consultation to take an hour or more. In your consultation, our expert plastic surgeons will:
Learn more about you and understand your goals with breast surgery
Educate you on breast surgery; the risks involved and techniques used
Perform a thorough examination (Review medical records by Skype)
Discuss realistic, achievable appearance goals and the next steps
Make sure that any questions you have are completely answered
Get a FREE quote for Breast Implants
Once you click the button you will receive your quote in your email within a few minutes and we will never spam you.