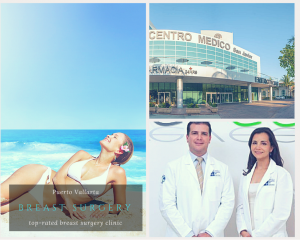 Are you struggling with the after-effects of weight loss, childbirth, or perhaps the gravity of aging? In this case, the breasts lose volume and the overall character of which you were once confident and proud to showcase.
By combining talent and artistic surgical techniques, breast augmentation in Puerto Vallarta involves the placement of a breast implants behind each breast to intensify the breast volume and heighten its overall shape.
Many women choose breast implant surgery at the top-rated breast surgery clinic in Puerto Vallarta to satisfy their craving for a fuller bust. Breast implants can be achieved at any age after the breasts are fully developed.
Why Choose Breast Implants
Beautiful balanced results are achieved by choosing the right implant. Our expert plastic surgeons, Dr. Alejandro Campero and Dr.  Nashielli T. Espinosa, do not allow patients to make uninformed choices — in which many times can lead to regret. With years of plastic surgery experience producing beautiful, balanced and natural looking breasts, Elaen Plastic Surgery Center in Puerto Vallarta can help you achieve your dream by demonstrating the following:
Gratifying new presence and fuller bust line
Prompt recovery times with no pain or long-term side effects
Confident aesthetic effects
What to Expect in Your Initial Consultation
If you are considering this procedure, please schedule a free consultation with Dr. Alejandro or Dr.  Nashielli T. Espinosa. You can expect your initial exam and consultation to take an hour or more. In your consultation, our expert plastic surgeons will:
Learn more about you and understand your goals with breast surgery
Educate you on breast surgery; the risks involved and techniques used
Perform a thorough examination (Review medical records by Skype)
Discuss realistic, achievable appearance goals and the next steps
Make sure that any questions you have are completely answered
Get a FREE quote for Breast Implants
Once you click the button you will receive your quote in your email within a few minutes and we will never spam you.