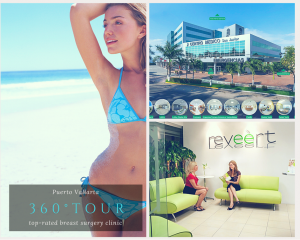 Choosing breast enhancement surgery in Puerto Vallarta at the top-rated breast augmentation clinic in Mexico — allows patients to utilize the stunning talents of expert breast implant surgeons, Dr. Alejandro Campero and Dr.  Nashielli T. Espinosa.
Our expert team at Elaen Plastic Surgery Center recognizes that plastic surgery is an art that requires an attention to detail to deliver outstanding surgical results. Dr. Alejandro and Dr. Nashielli hold an impeccable reputation, many loyal patients, and are well regarded in the plastic surgery industry due to their persistent dedication.
Our clinic performs top cosmetic procedures including breast augmentation, breast lift, breast revision and breast reduction, as well as breast reconstruction for patients who have undergone a mastectomy or lumpectomy for breast cancer treatment.
Take a Tour of Our Modern Facilities
With a deep passion for helping others achieve their appearance goals, lead plastic surgeon, Dr. Alejandro and his elite team, designed a modern plastic surgery facility to be both inviting — yet graceful.
From the staff to the overwhelming irrefutable reviews, the entire experience inside Elaen Plastic Surgery Center was designed to make you feel at home. Take the 360° Tour Now.
Leading Breast Surgery Clinic in Puerto Vallarta
Breast implant surgery take place inside the prestigious Elaen Plastic Surgery Center. The astonishing locale gives patients the opportunity to combine breast surgery with a stress-free vacation — in a city that attracts many tourists every year due to its impressive climate and close proximity to the beach.
As the leading plastic surgery clinic in Puerto Vallarta, Elaen Plastic Surgery Center has been recognized within high-profile associations, such as the Asociacion Mexicana Cirugia Plastica Estetica y Reconstructiva, ISAPS, and Federacion Iberolatinoamericana de Cirugia Plastica. These accreditation's provide patients with a sense of assurance that our breast surgery clinic has passed strict standards in regards to medical ethics, safety, and overall performance of medical personnel.
Breast Surgery Consultation with Expert Plastic Surgeons
If you are considering this procedure, please schedule a free consultation with Dr. Alejandro or Dr.  Nashielli T. Espinosa. You can expect your initial exam and consultation to take an hour or more. In your consultation, our expert plastic surgeons will:
Learn more about you and understand your goals with breast surgery
Educate you on breast surgery; the risks involved and techniques used
Perform a thorough examination (Review medical records by Skype)
Discuss realistic, achievable appearance goals and the next steps
Make sure that any questions you have are completely answered
Get a FREE quote for Breast Implants
Once you click the button you will receive your quote in your email within a few minutes and we will never spam you.