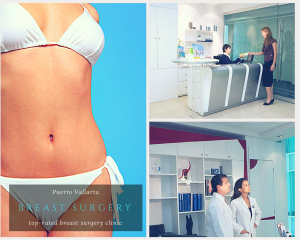 Large breasts can not only cause physical pain — but can also lead to emotional and social anxiety. Women who take advantage of our breast surgery in Puerto Vallarta find that they are able to lead a healthier, more comfortable life — and can once again enjoy a beautiful, more proportionate appearance.
Breast reduction surgery at the leading breast augmentation clinic in Puerto Vallarta offers patients true enhancement that reshapes the breasts in order to make them smaller, lighter, and firmer.
This pain-free surgical procedure is performed by expert breast implant surgeons, Dr. Alejandro Campero and Dr.  Nashielli T. Espinosa.
Benefits of Breast Reduction Surgery
Breast reduction surgery removes excess breast fat, glandular tissue and skin. Elaen's lead surgeon, Dr. Alejandro, reduces the size of your breasts to achieve a comfortable and attractive size in proportion to your body.
Over it. Are you self-conscious about your breasts? Breasts are considered by women to be one of the most attractive parts of the body, but if they are too large it can cause many problems and leave you feeling less confident and uncomfortable.
Physical pain. Large, sagging breasts need not only physical support but moral support as well, as they can place a heavy burden on your consciousness — back and shoulders.
Active lifestyle. Do large breasts confine you to a less active lifestyle? Overly large breasts can make sports and exercise difficult — and sometimes impossible.
Improving your style. Having a hard time finding the right clothing to suit the size of your breasts? If your breasts are out of proportion to the rest of your body, breast reduction surgery will help your clothes fit properly and look great.
What to Expect in Your Initial Consultation
If you are considering this procedure, please schedule a free consultation with Dr. Alejandro or Dr.  Nashielli T. Espinosa. You can expect your initial exam and consultation to take an hour or more. In your consultation, our expert plastic surgeons will:
Learn more about you and understand your goals with breast surgery
Educate you on breast surgery; the risks involved and techniques used
Perform a thorough examination (Review medical records by Skype)
Discuss realistic, achievable appearance goals and the next steps
Make sure that any questions you have are completely answered
Get a FREE quote for Breast Implants
Once you click the button you will receive your quote in your email within a few minutes and we will never spam you.